New Paper: Living Composites of Bacteria and Polymers as Biomimetic Films for Metal Sequestration and Bioremediation
07.04.2015
Living Composites of Bacteria and Polymers as Biomimetic Films for Metal Sequestration and Bioremediation
C. Knierim, M. Enzeroth, P. Kaiser, C. Dams, D. Nette, A. Seubert, A. Klingl, C. L. Greenblatt, V. Jérôme, S. Agarwal, R. Freitag, A. Greiner
Macromol. Biosci.; 2015, 15(8), 1052-1059.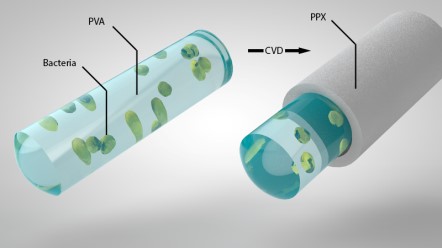 Living composites of bacteria and polymers were utilized for sequestration of gold from aqueous hydrogen tetrachloraureate solution and for the bioconversion of nitrite.