Water-saving in synthetic chemical laboratories with new cooling condensers
Synthetic chemical laboratories require large amounts of water for cooling purposes. A tap running at 2.5 liters per minute consumes up to 150 liters of freshwater per hour. All new laboratories, therefore, hold a closed-loop cooling water system. In laboratories where this is not possible, the team of MC II has installed a sustainable system for water saving while simultaneously increasing safety inside the laboratory.
In order to contribute significantly to water and energy saving, we have invested in a waterless supercooled condenser. These condensers entirely eliminate the use of continuously running water while simultaneously prevent the risk of flooding. As a result, thousands of liters of water will be saved per year combined with a significant cost reduction. We continue to expand the installation of this kind of condenser and are more than happy to share our experience with others.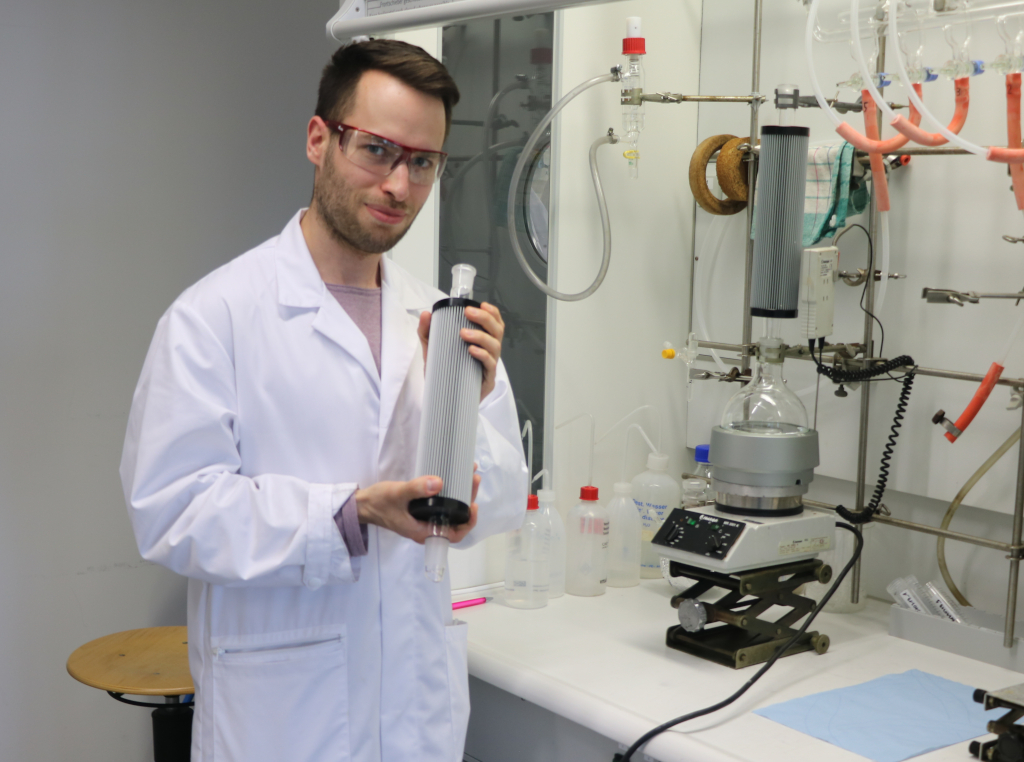 M.Sc. Nikola Majstorovic using a waterless condenser.
---
Macromolecular Chemistry on the Mission of Sustainability
It's been exactly 100 years since Hermann Staudinger postulated his idea of macromolecular structures. Since then, polymers have been a blessing for humanity and can be found in every aspect of our life. The omnipresence of resilient polymers brings many advantages, but waste materials have become a burden for our environment. Plastic residues in fields and oceans and the intensifying pollution by microplastic have become a severe issue for humankind.
The Macromolecular Chemistry II group at the University of Bayreuth decided to tackle this problem. In addition to the substantial research in the SFB Microplastic and the exploration of sustainable and biobased polymers like PLimC, the workgroup decided to implement a Sustainability Concept in the everyday-lab life.
Therefore, the members of Macromolecular Chemistry II elected M. Sc. Benedict Petran and deputy M. Sc. Anil Kumar as their Sustainable Ambassador for the period of October 2020 – September 2021.
The ambassador will represent the chair in sustainability-related issues. His goal will be the development of long-term sustainability strategies in a generally resources-demanding laboratory environment. By correct recycling of waste, reuse of consumables, and benign synthesis concepts, the group's carbon footprint will be reduced while simultaneously saving precious resources like water, energy, and consumable supplies.
Equally important will be the ambassador's function to raise a general awareness towards ecological issues and sensitize coworkers and students from all over the university. Because global warming and environmental pollution concern everybody, and everyone is invited to contribute his share to our mutual sustainability mission.